Baker Boy topped the 2022 Arias, taking home a total of five awards for his album Gela on Thursday night – including best gong for album of the year, as well as best solo artist and best hip-hop release.
The 26-year-old Yolŋu rapper – real name Danzal James Baker – has been nominated for six Arias in the past, although these were his first wins.
Gela – his 2021 record which features contributions from the late Uncle Jack Charles – continues Baker's signature fusion of feel-good flex and radical polemics, drawing inspiration from both his Arnhem Land upbringing and his move to Victoria, where he now resides. The album also won Technical Arias for Best Cover Art and Best Sound Mixing.
"Oh my God! Oh! my heart!" Baker gushed before giving an album of the year acceptance speech in a Yolŋu language.
"I want to dedicate this to my family back home, to the young people back home," he said in his second acceptance speech for Best Hip-Hop Release. "You can make it, you can have success and all the opportunities…I've been there, I've done it, and I know you can too."
Like last year's big winner Genesis Owusu, Baker has only been on the Australian music scene for five years, although his rise at that time was stratospheric.
Since emerging in 2017 as the winner of an emerging artist competition organized by Triple J Unearthed and the National Indigenous Music Awards (Nima), Baker gained significant recognition. He picked Artist of the Year and Album of the Year at the last Nimas in August – and in 2021 he received an OAM for his services to the performing arts.
Equally meteoric was the rise of Kid Laroi. Artist Kamilaroi continued his success from 2021, winning Best Pop Release for his hit Thousand Miles – his only solo release this year.
Best Group went to punk band Amyl and the Sniffers, who also won Best Rock Album for their 2021 album Comfort to Me. "I was just having a shot of vodka backstage…now I'm here," singer Amy Taylor said.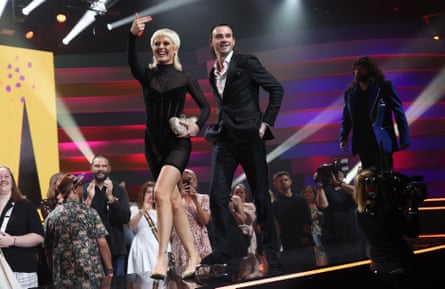 "Everyone's watching at home, I know there's a few drinking games," she later joked as she received their second prize, with a hoarse laugh. "So enjoy this shit!"
This year, the Arias returned to an in-person format after two sabotaged ceremonies where most speeches and performances were pre-recorded.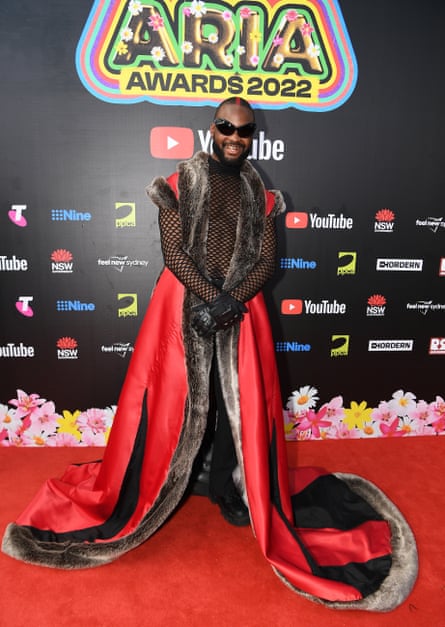 Held at Sydney's Hordern Pavilion and broadcast on both YouTube and TV, the ceremony featured a big throwback to red carpet fashion – and to catering which, to some attendees' amazement, included a catering establishment leading chicken fast. Cowboy hats and mustaches abounded during the pre-show; Genesis Owusu channeled Game of Thrones in a luxurious fur coat and red mohawk.
Other Aria traditions have also popped up. International guests once again bestowed prizes on musicians they had almost certainly heard of a minute before; this time, Ellie Goulding presented the best video to her "favorite" Vance Joy.
And it was another landmark year for the Wiggles, who broke their own record for the most Arias in any category – winning their 15th and 16th Best Children's Album and Best Live Band awards. The crowd erupted as the original lineup – yellow bar Wiggle Greg Page – took the stage to receive their awards.
Performance came thick and fast. They included commemorations of several deceased Australian musicians: Archie Roach, Olivia Newton John and the singer of the Seekers Judith Durham. Roach also won the posthumous award for Best Independent Release for the track One Song.
Tones and I – who led the tribute to Newton-John – also won the fan-voted Best Song award for Cloudy Day, his hymn to optimism. It was her fifth win with Aria following her wins in 2019 for her viral earworm Dance Monkey.
Soul singer Bundjalung Budjerah, who accepted the breakthrough artist award from Michael Gudinski last year in a moving speech, won the award for best R&B release for his EP Conversations.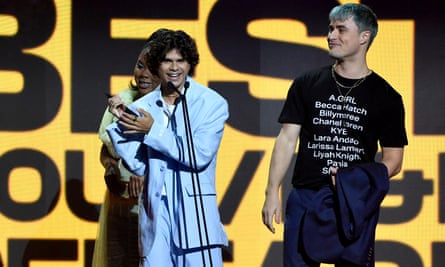 Another First Nations band won the breakthrough this year: King Stingray, a six-piece surf rock band from the Northern Territory with Yolŋu members.
The best hard rock release went to the Cats for their album Get Fucked – a pronounced, hilarious track, with some hesitation by the hosts throughout the night. "If you see this video, it means there's been a huge mistake at Aria HQ," frontman Eamon Sandwith said in a pre-recorded deadpan speech. "I'm as confused as you are. I hope someone gets fired for this annoying gaffe.
This year also marked the second time the Arias have waived their previous male and female boundaries in favor of gender-neutral categories – a move made in 2021 in response to calls for greater inclusion. "I think it's really great that we now have the best solo artist," singer G-Flip said. "Being non-binary myself, I found that really comforting."
The changes, however, didn't appease other critics leveled at the Arias. When the 2022 shortlist was announced in October, Brisbane-born artist Mallrat took to Instagram to vent her frustrations over the overwhelming bias towards male artists. "About ⅕ of the nominees are not male," she wrote. "In categories like heavy rock, there are no non-male artists at all. So I'm reminded again that the australian music the industry… is dominated by men and in this case, men who don't think an artist is credible unless it's a nonchalant dude who plays guitar/rock music.
Earlier this year, Gumbaynggirr rapper Tasman Keith also attacked the Arias' 'outdated system' of eligibility criteria, which requires a record to appear in its Top 50 albums for it to be eligible for the album. of the year. Similar rules apply to gender categories.
"The criterion remains structured mainly around a system that overweights physical formats and downloads. Not streams," Keith said in a statement. "Artists should have the same opportunity in these times as those with the big budget… Aria needs to evolve. The system isn't set up for the small town mission kid, it's set up for the big label white man.
Several artists rallied behind him, including Jaguar Jonze, who also urged Aria voters to consider the recent Raising Their Voices report – a long-awaited study that revealed endemic levels of sexism and harassment in the Australian music industry.